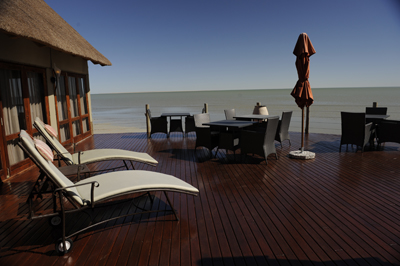 The Onkoshi Camp is an exclusive, low impact environmentally friendly semi-permanent, up-market lodge on the eastern edge of the Etosha Pan, on elevated wooden decks.
With only 15 private chalets and a maximum of 30 guests at any one time Onkoshi offers a more peaceful tranquil stay than any of the other camps in Etosha, the small restaurant and bar area spill out onto a lovely large decking area that looks directly onto the Etosha Pan perfect for sundowners and sunsets.
There is also an infinity swimming pool overlooking the pan.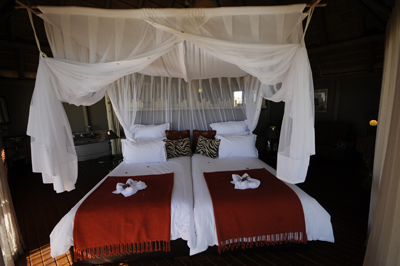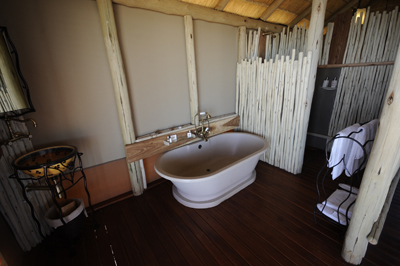 Guests arrive in Namutoni from where they will be transported to Onkoshi Camp in NWR vehicles.
The site is on a secluded peninsula, and offers a full view towards the west, overlooking the immense saline pan. The location is entirely out of view of current tourist routes, and offers a pristine, tranquil and unique experience to its guests.
Accommodation at Onkoshi Camp
All rooms are spacious and en suite each with an Indoor and Outdoor Shower, a stone bath tea and coffee station, evening turndown service and each has a breathtaking view onto the pan.
Chalets are built on elevated wooden decks, with thatched roofs, insulated canvas walls and large, wooden-framed retractable doors allowing spectacular panoramic views.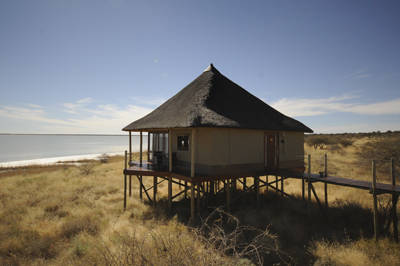 Rooms are tastefully equipped with locally crafted fittings and furnishings, using a combination of metal and wood combined with natural fabrics to create a natural and ethnic ambiance.
Each chalet at onkoshi has two ¾ beds, except in the honeymoon chalet where a king-size bed will be provided.
Space for luggage and hanging space is provided, and a sleeper couch in all but the honeymoon chalet, will allow for accompanying children, however no children under the age of 6 will be permitted.
Activities and Attractions at Onkoshi Camp
One of the primary attractions of the lodge is the proximity to the pan, with its shimmering mirages during the hot days; dramatic sunset and sunrise textures and colours; sense of isolation and space; clear night skies; and the sights, smells and sounds of untamed and unadulterated Africa.
- Guided Morning, afternoon and night game drives
- Access to exclusive areas within the north-eastern sand veld area of Etosha
- Guided walks
- Guided moonlight walks

We are an independent safari operator able to make bookings for Namibia Wildlife Resorts
Copyright 2008 - 2016