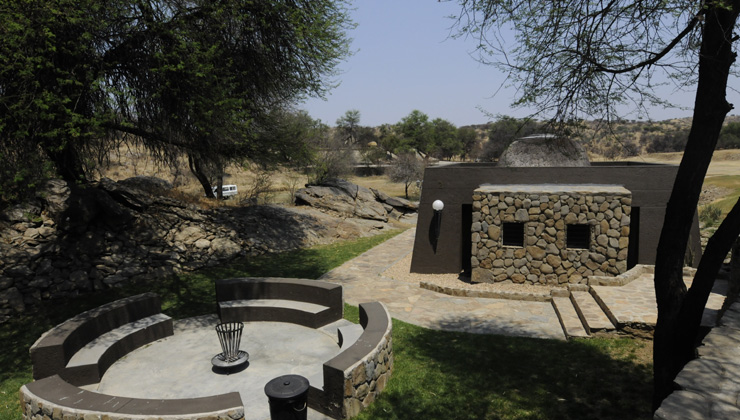 Welcome to the epitome of relaxation, we have everything you need, from luxurious chalets, or close to nature camping, weddings to conferences, we cater for your needs.
Situated amongst the rolling hills of the Khomas Hochland, in the Sun Karros Daan Viljoen Game Reserve is Sun Karros Lifestyle Safaris, a sanctuary to a relatively large population of game species typical of Namibia's highlands.
Because of its close proximity to Windhoek and its tranquil setting, Sun Karros is a popular overnight stop for visitors who wish to avoid the hustle and bustle of the Namibian capital.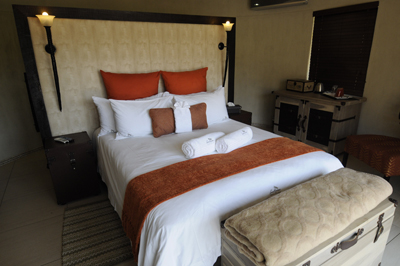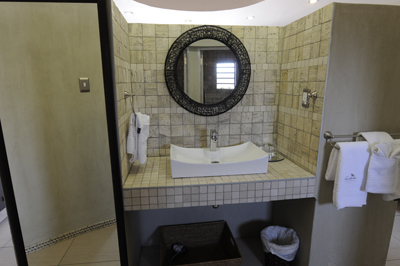 Although small in size, the Sun Karros Lifestyle Safaris supports a healthy population of game typical of the Namibian highlands and is also a good spot for bird-watching. One of the main features is natural dam around which the chalets and camping sites are placed; as this is a permanent source of water for Fauna and Flora.
Accommodation at Sun Karros Daan Viljoen
Independently located around the Sun Karros Daan Viljoen dam, visitors can now experience all the luxury of a modern day breakaway, in unique, contemporary African chalets.
Each one of our 19 chalets are fully equipped with air-conditioned rooms, satellite TV's and mesmerizing patio views, ensuring the visitor an exclusive and luxurious atmosphere.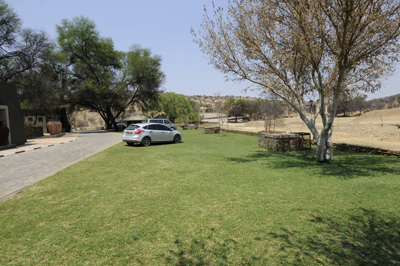 19 contemporary African chalets
Air-conditioned rooms | Satellite TV | Bar fridge | Private barbeque | Mesmerizing patio views | Restaurant |
Indigenous wildlife | Hiking trails | Mountain biking trails
Camping at Sun Karros Daan Viljoen
Ideally located next to the Augeigas river, our overnight camping facilities offers campers 12 different camping sites to choose from, including a barbeque, electricity, washbasin and outdoor lighting for each site.
Campers can also relax in comfort with luxurious shower and ablution facilities available to all our guests,
insuring one of the best camping facilities in Namibia.
Reception with kiosk and internet access | 12 fully equipped camp sites | Private barbeque | Electricity | Restaurant | Indigenous wildlife | Hiking trails | Mountain biking trails | Game drives
Visitors at Sun Karros can also indulge their taste buds with delicious, unique Namibian dishes at our Kraal Restaurant, while gifts and memorabilia are always available at our Kiosk.
The Kraal Restaurant
Visitors can also enjoy the exquisite uniquely Namibian cuisine prepared at the Kraal Restaurant.
We have it all, from appetising appetisers, to succulent steaks, pleasant pasta to the decadent desserts, your cravings will be met with satisfaction.
Don't forget, whether you stay over, or just want to come through for the day, we serve mouth-watering Saturday and Sunday lunches, and divine dinners at the Kraal restaurant.
Conference facilities
With three venues, the Kudu, Gemsbok and Es, we have everything you need for your conference.
Our close proximity to the Capital, is the perfect location for your next conference to escape the hustle and bustle of the city.
For the ultimate convenience, we give you the option of boardroom or cinema style seating with all the space you need,
full multimedia facilities, the option to record meetings and much more.
Weddings
Located just 20 Km out of Windhoek is Sun Karros' picturesque scenery
Welcome to Namibia's most captivating wedding venue. From traditional to bush weddings, we have all you can dream of in one place,
enchanting wildlife, exquisite surroundings, stunning sunsets, and breathtaking venues.
Create an unforgettable memory at an unforgettable destination.
We are an independent safari operator able to make bookings for Namibia Wildlife Resorts
Copyright 2008 - 2016